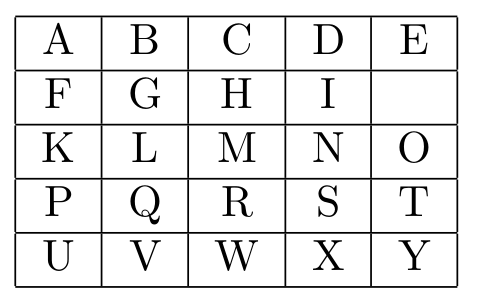 AN EXAMPLE: 2,3 -1,1 -1,0 4,-1 -4,-3 2,2 1,-2 -1,1 -2,3
THE QUESTION: -3,1 4,-3 -4,3 2,-1 1,1 1,0 -3,0 2,0 -2,-2 2,0 -3,2 0,0 1,0 -1,-3 4,3 -3,0 2,0 1,-2 -4,2 2,-1 1,1 1,0 -3,0 2,0 -2,-2 2,0 -3,2 0,0 1,0 2,0 -1,0 -1,0 1,-2 -1,2 2,0 -2,-2 0,1 2,-1 0,2 -3,0 0,0 2,-1 -1,1 0,-4 2,2 -1,2 0,-2 -1,2 3,-2 -3,0 -1,2 3,-2 -3,2
author: Rich Wareham (rjw57)
The puzzler is presented with a grid of letters. "AN EXAMPLE" is a clue. If one starts from "A" in the puzzle and interprets each pair of numbers as the number of rows to move down and number of columns to move right, one spells out "AN EXAMPLE".
The question is found by following a similar procedure. After some experimentation, one finds that the starting letter is "S" and the question is:
SEVENTY THREE BY TWENTY THREE TO M THIRTEEN FROM WHERE

This question refers to the Arecibo message and so the answer is "Arecibo".