Reset Puzzle State
The Wanderer 2
Number 388,244. August 21 1888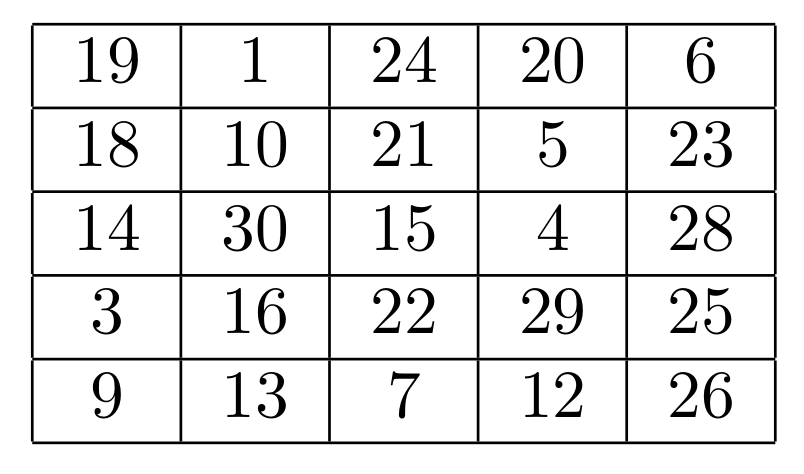 1f8b0808526e4559000373746570732e776b6200ad5231128030088b4e8e
bec42fd89f9727f5090e36b9238a932c5c219090ebb20238c0187de6f3ce
5bcb7545cc7ee033f6390f66c7c7fb7ef26b0ef69e733b75188f74399feb
f9791f75cb3fc3732febbabb19cef8e8a37445c6c92fe4bed71fbe1a8e3c
d2154546c6eb7e9bf3fbabfdfa67e69ff356fdca67c6e817174c93a6e902
0000

Solution
author: Rich Wareham (rjw57)
This puzzle is similar to "the Wanderer". Essentially the same approach is used to solve the puzzle; one needs only work out how to interpret the grid and the hex data below it.
The text "Number 388,244. August 21 1888" is a clue to the Baudot code being its patent number and date. The grid numbers are therefore just the Baudot codes for each letter.
The hex data when converted into raw data is a GZIP encoded file. The original filename being "steps.wkb". The WKB format being a "well known binary" encoding of geographic data. In this case it is a string of points which are interpreted as per the Wanderer to get the question:
SIXTEEN OH FIVE FIVE BIT CIPHER INVENTED BY WHO

This is a reference to Bacon's cipher and so the answer is "Francis Bacon".